We'll all have experienced those time when we do something and soon come to the realisation that we could've done it a little better – you could've done something in the office more efficiently, you could've run a little faster, whatever it may be. The key to self-improvement in these instances is simply a three-step process: hold your hands up, admit you didn't do your best and then ensure you progress the next time around.
Apply this in a business setting, and think about it creatively, and you could be on to a marketing masterstroke. It's an approach that some brands have nailed recently, accepting criticism they've received and, instead of brushing it under the carpet and continuing along their current trajectory while they murmur to themselves that "if it ain't broke, don't fix it," admitting that they must do better.
Lamenting lacklustre lager
Carlsberg's recent marketing ploy, masterminded by London agency Fold7, is the prime example. Putting power to the people – well, the Twitter-dwelling, self-proclaimed lager aficionados – the beer brand caught wind that their claim of being the best in the world didn't hold the same weight as it once did. They were being caught short and called out across social media and, as they say, if you can't beat them, join them.
Carlsberg and Fold7 began paying to promote these tweets, which included feedback that the drink tasted of stale bread, bath water and urine, before releasing a video of staff members reading the feedback and reflecting on it. In a style popularised by a segment on American talk show Jimmy Kimmel Live, entitled Mean Tweets, it puts weight behind the comments left by keyboard warriors and demonstrates the effect – or lack thereof – that online critique tends to carry.
The outcome? Carlsberg used the criticism as a chance to launch their new and improved recipe, informing the public that their clearly much-maligned blend had now been retired under a repurposed strapline: "Probably (not) the best beer in the world, so we've changed it." People like honesty, and when a multi-billion-pound business hold up their hands, it's hard not to applaud them.
Kan't Find Chicken
A plausible name for the world's most famous chicken restaurant for all of about a week in 2018. Believe it or not, KFC stores across the UK simply ran out of chicken after an issue with their suppliers hit hard, leaving them with little choice but to shut up shop until it had been resolved. Accepting that they were left with no option but to face the embarrassment, some restaurants rearranged the famous anagram to admit defeat, as seen below.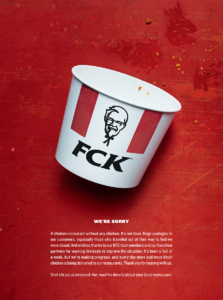 But that wouldn't be the last time the Colonel dipped his toe into the art of self-deprecation. A few months later, the chicken chain took action to online criticism about their chips and released a new and improved recipe. Using just one tweet that was posted four years prior to the campaign, KFC promoted the message and admitted they needed to do better – while their chicken recipe had remained the same from nearly 80 years, they couldn't afford the same luxury to their fries.
Humility is king
Things don't always go our way, and when you or your business is in the public eye then the key to recover is often in acknowledging the errors. The rise of social media has paved the way for people to share the opinions far and wide with next to no consequence – that can't be changed, so by joining the conversation you and laughing at your own expense provides the opportunity to take control of the narrative and use it to your own advantage. After all, all press is good press.